Option to Reset User's Leave Balance in Timetec Leave
Introduction
Resetting a user's leave balance can come in handy when there is an issue pertaining to a user's leave balance. For instance, it can be a mess when the admin has imported an incorrect leave balance or has manually edited an incorrect leave balance multiple times.
However, any taken leave or earned leave will remain untouched.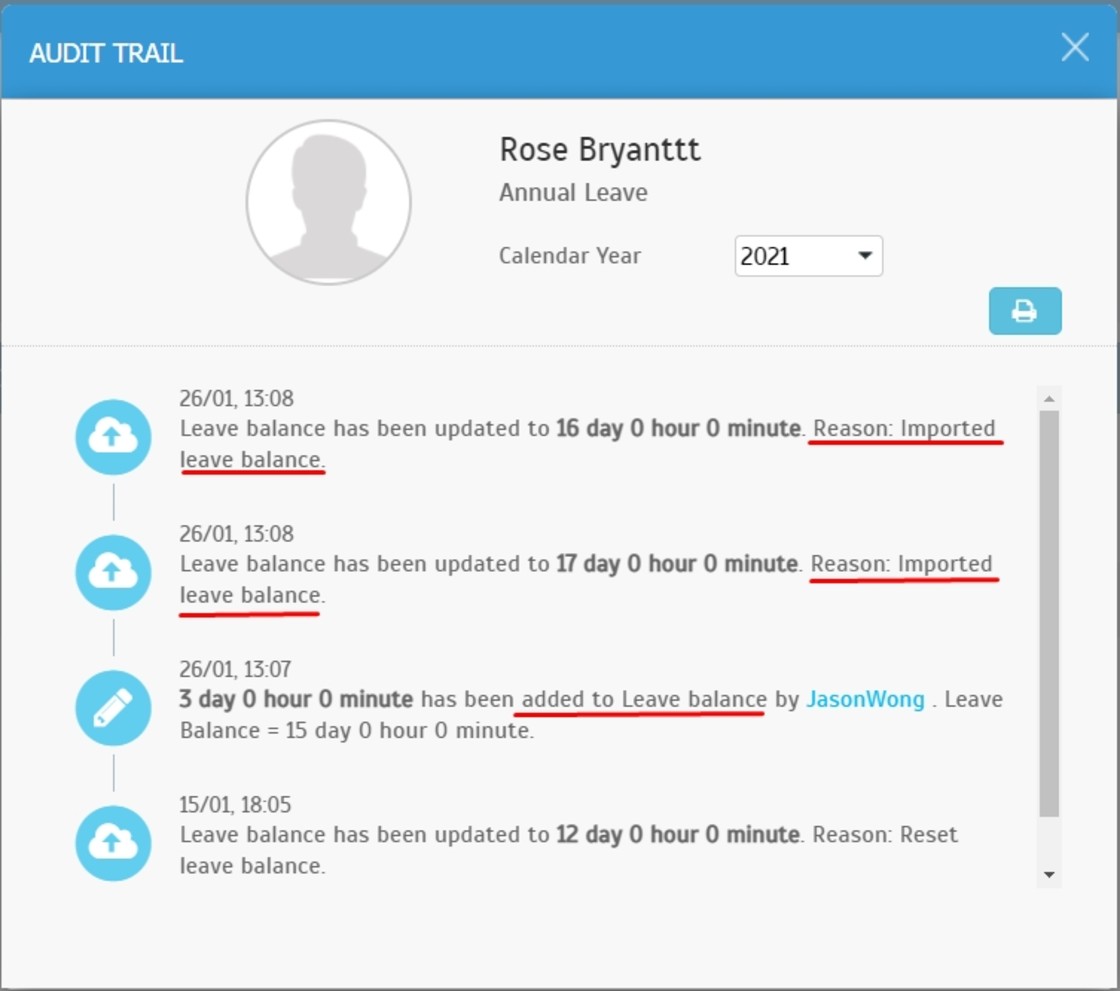 Under the user leave balance page, there is a 'Reset Balance' button which allows the admin to reset the current leave balance according to the user's leave allowance and policy settings.
Note: This action cannot be reversed
Process

To find the reset leave balance button, simply navigate to User tab > Manage user. Then, find the intended user for change followed by clicking on the leave settings button on the right.

After opening the leave settings for the user, simply navigate the Balance tab and the reset leave balance button will be on the bottom right corner.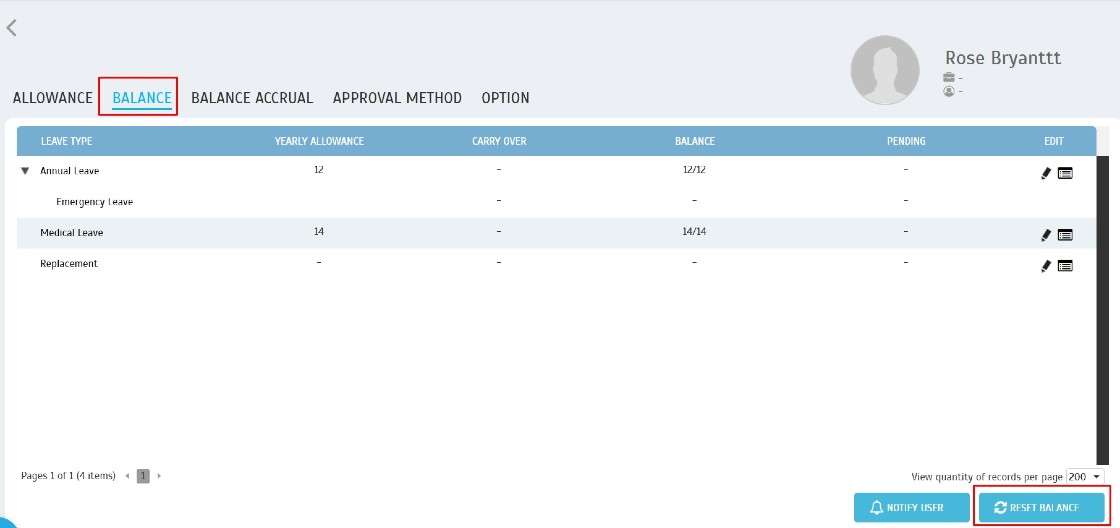 To use the feature, simply click on the button. Upon clicking on the button, there will be a confirmation message shown to the admin.

After confirming the message, the user's leave balance will be updated by eliminating previous updates, including imported leave balance and manually edited leave balance. However, the entitlement will not be erased but will be kept instead.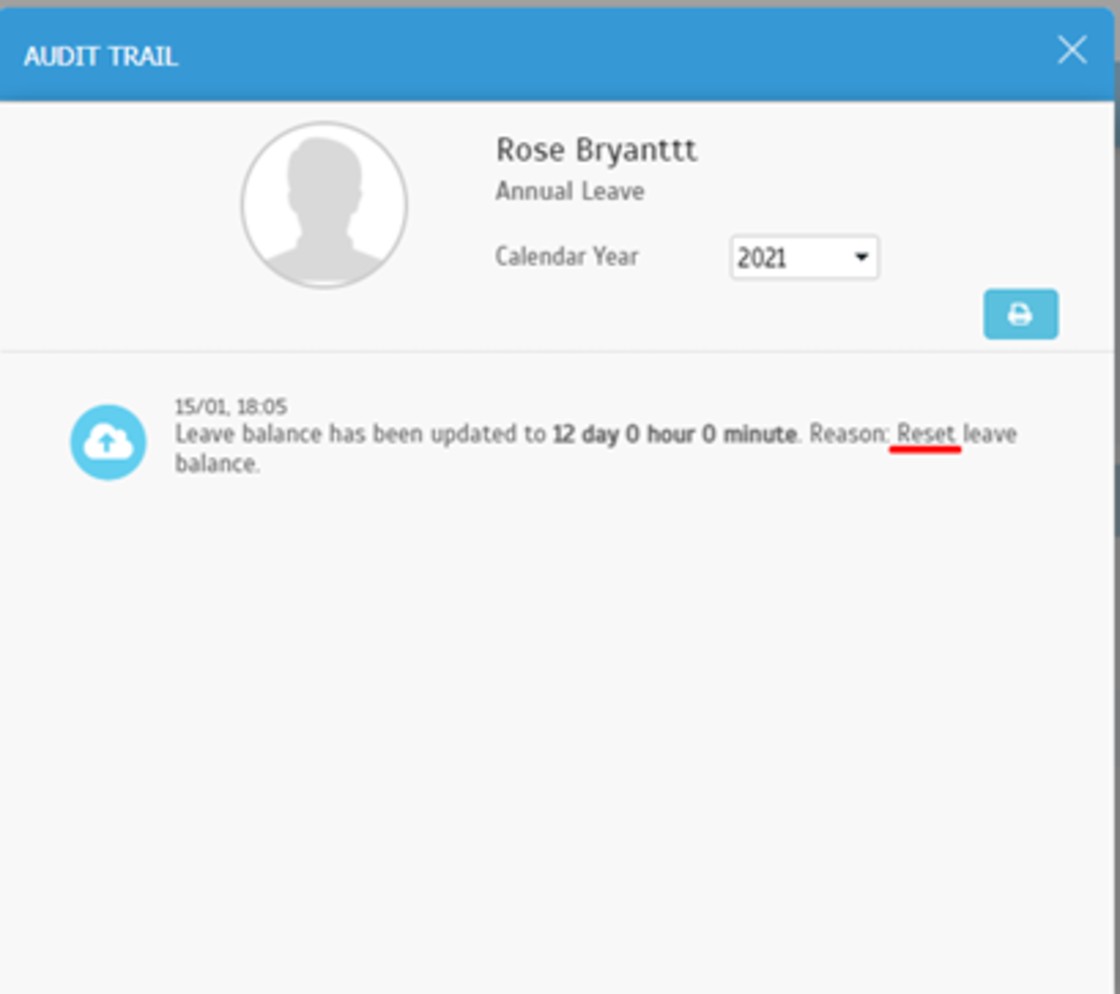 For another example, if the default balance in the leave policy assign to the user is 0 days, the balance will remain at 0 days after reset.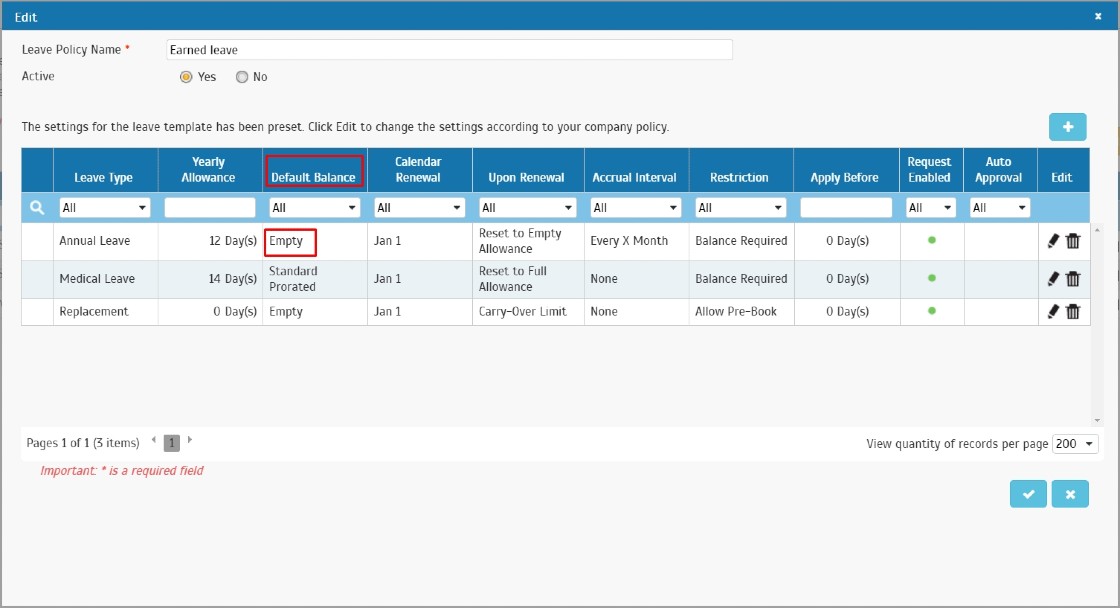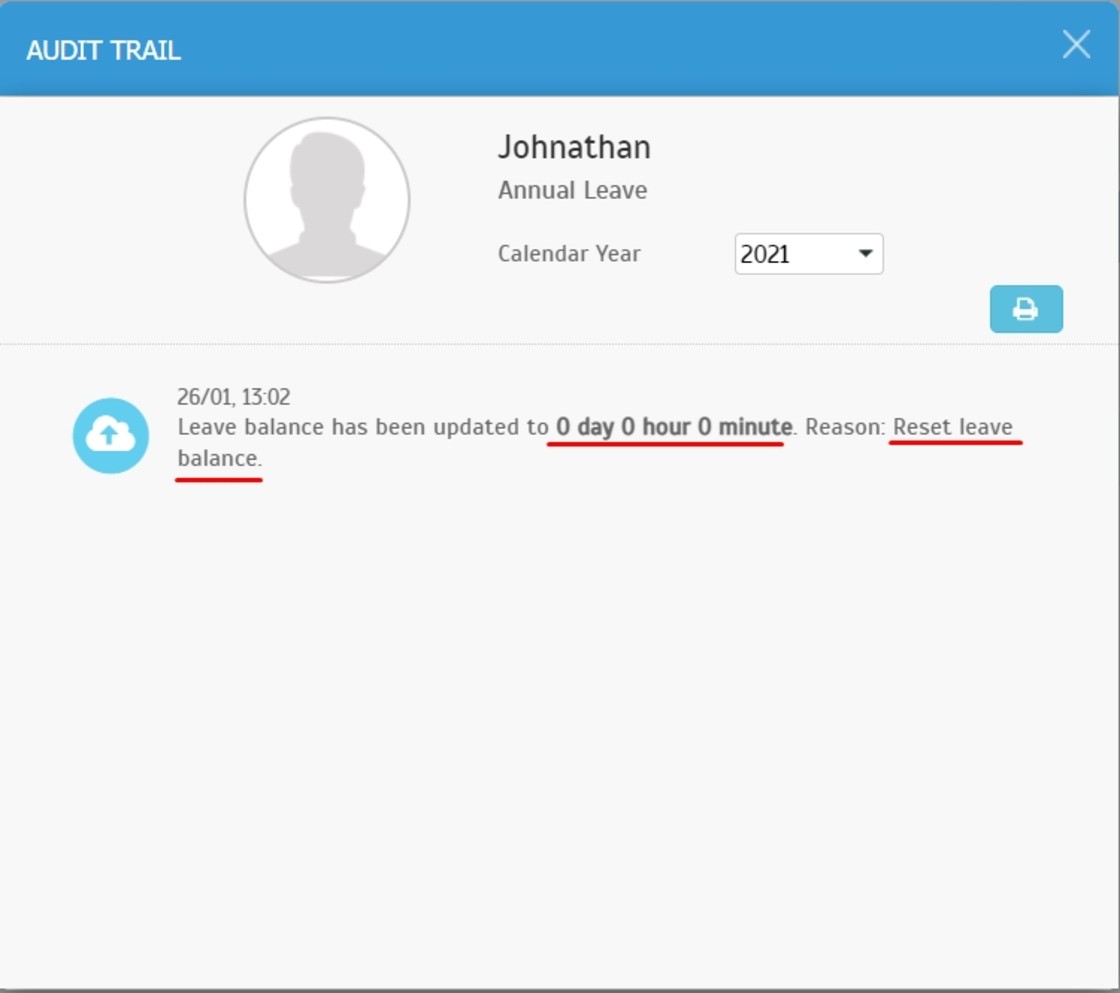 Note: If some of the screenshots or steps viewed here are different from the ones in the current system, this is due to our continuous effort to improve our system from time to time. Please notify us at info@timeteccloud.com, we will update it as soon as possible.
​
Related Articles

How to Track the Changes made to a User's Leave Balances in Timetec Leave

Introduction You should probably be aware that all changes that have been made to a user's leave balances and should be able to track whenever you wish to review the details. This can be done by viewing the Audit Trail in the User Leave Settings. All ...

TimeTec Leave - How to Configure Accrual Interval in Leave Policy to Allow Monthly Earned Leave Balance

Introduction Some company regulations provide a prorated leave balance from the full yearly entitlement based on staff's joining date, while others practice prorated calculation earned monthly. However, the monthly earned leave is usually calculated ...

Adding New User In TimeTec Leave

Introduction TimeTec offers an array of cloud solutions whereby TimeTec Leave offers a scalable solution that will transform the way employers manage employees' leave. This solution automates the leave management process and prevents HR from spending ...

How to Amend or Import Carry Over Balance in TimeTec Leave

Introduction Every company has a yearly leave allowance for their employees. This information is important for the employees for their leave planning, especially their leave balance information. TimeTec Leave has automatic leave balance update, ...

TimeTec Leave Report

Introduction TimeTec Leave offers various types of reports for checking, stored data and troubleshooting processes. We have listed multiple types of Leave report for your preferences. Any data stored in TimeTec Leave will be retained in the system ...